As of 2022, the global market cap for ERP software is $51 billion, and it is expected that the market cap will increase to $124 billion by the end of 2030. This market growth can be attributed to the total growth of the business industry.
Because the modern industry is looking for a solution to manage all its resources, new ERP systems have sprung up to enter the ERP market.
Thinking about a few top ERP software, we can currently think of Infor, Epicor, and Syspro.
ERP has become a core technology for businesses to manage all their resources and multiple business operations. There are many businesses that are yet to know the benefits. This is perhaps because of their lack of understanding of ERP.
That being said, here we are. Seeing how businesses still don't understand the real purpose of the ERP system, today we will discuss all ERP and why it is important for businesses.
Why Is An ERP System?
ERP stands for Enterprise Resource Planning. It is a business process management software that manages all the business's day-to-day activities. These activities might include –
Procurement
Financial flow.
Production.
Human resource.
Project management and other activities.
It helps business stakeholders with accurate data to make the right decision for the business. In addition, a good ERP system eliminates redundant data and provides one space to store all the valuables. This offers security and ensures data usage can be tracked.
If your business is working on traditional methods, it is high time that you adapt to the ERP system. To learn more about ERP and how it works, visit ERP systems Australia.
What Are The Uses Of ERP?
ERP solutions can be customized based on the industry you are in. Or you can simply look for an ERP software that offers the features you are looking for. There are many ERP software designed while keeping a specific industry in mind. You can browse through different software tools and select them based on their functionality.
Here is how ERP software can be used.
1. Accounting
Financial management capabilities are the primary feature of any ERP system. Features like accounts payable, general ledger, and accounts receivable help businesses manage and track revenue and expenses. Some software also comes with payroll management for the entire organization.
Businesses can take advantage of these features and keep all their financial calculations in one place. This is certainly a game changer for businesses that don't have a team to manage financial transactions.
2. Customer Relationship Management
Customer relationship management software is often sold individually in the market. However, with the ERP solution, you get this software along with it. This key application supports the marketing and sales team.
CRM features ensure that the business is in close contact with its customers and offer solutions at any time of the day. What's more, it also helps the business with the following –
Managing leads.
Reviewing order history.
Tracking conversion histories.
Creating quotes.
– and everything that comes with it.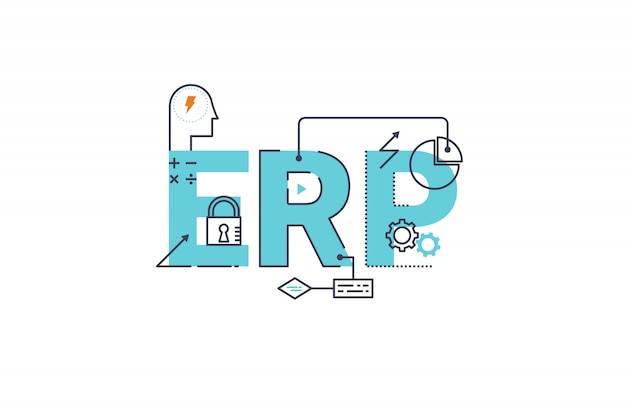 3. Human Resources
One of the major fields that every business needs to keep a close eye on is its human resource supply. ERP software helps the business manage and control the organization's workforce with the human capital management feature.
The management of your current and new employees will help in the hiring process and build good relationships with other employees.
This also includes –
Employee onboarding.
Time tracking.
Benefits management.
4. Supply Chain Management
Manufacturers and distributors are among the prominent users of ERP software. This is because these two sectors are in need of logistics to measure their performance. And because of too many factors that contribute to success, it is impossible to track the performance without an ERP system.
A supply chain management suite uses ERP software to manage the flow of goods and services between different locations.
Which Industry Can Benefit From ERP?
Although ERP was originally meant for the manufacturing industry, the software has expanded itself to various industries. Today, you will find ERP systems being used in sectors like education, retail, wholesale, food, real estate, health, and government. Learn more at https://www.inecta.com/food-trader.
This is because, no matter which sectors we are talking about, every organization manages employees, buys and sells products, and manages finances. Hence, it is clear that they will need an ERP system to manage all the operations.
Additionals: