Ramadan is a very sacred month that is celebrated by Muslims worldwide by fasting, praying, and celebrating. In the Islamic Calendar, it is the ninth month. Ramadan was mostly celebrated exclusively with evening prayers, sacrificial aspects, and unique occasions. However, many things have changed without the basics. One of the new things that have been evolving with time is the decorations. In the age of social media, Ramadan decorations have become an important part of the celebration.
There are plenty of ideas out there that you can choose to make the Ramadan month colorful and bright. However, if you are not familiar with Ramadan decorations, we are here to help you out. So, make sure to stay till the end to find out some mind-blowing decorative ideas.
10 Ramadan Decoration Ideas For Office And Home
Before we take a look at the different decoration ideas, there are some things that you need to keep in mind. Apart from lights, there are some other things that you can choose to celebrate the surroundings. Everything plays a major role in making the home or office decorated from food to carpets. Now is the time to find the best decoration and stand out among others.
1. Scented Candles
After light, candles are the most successful competitor that can improve the mood and lighten the room. Instead of normal candles, try using scented candles that come with a rich aroma. Scented candles are a terrific way to enjoy the spiritual time of Ramadan. 
It makes the room more hospitable and full of joy. You can try lighting up a couple of these aroma candles in different places of your home or office. It is one of the best Ramadan decorations ideas that can make the event more enjoyable.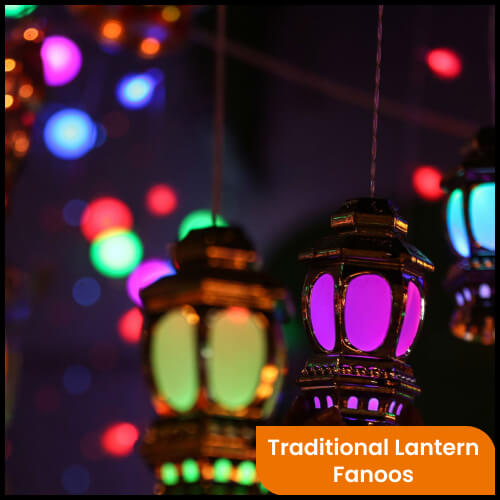 2. Traditional Lantern Fanoos 
When it comes to Ramadan decorations, traditional lanterns or fanoos are a must. It was used in Ramadan 2021 decorations as well and made the Ramadan special for many people.
Traditional fanoos are not only decorated at home, but you can see them in malls, streets, offices, and hotels. It has become an icon for this holy month, and you can see them worldwide. They are perfect for lifting the festive atmosphere and making the month special.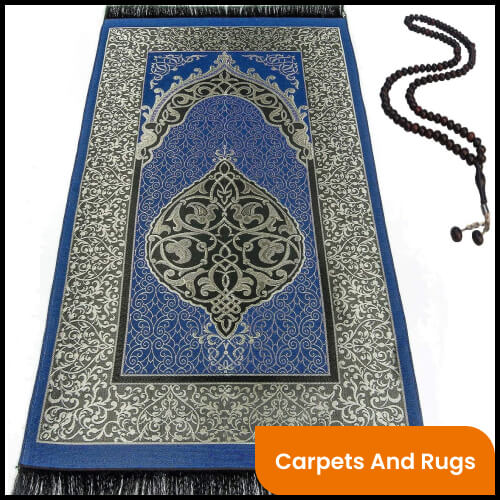 3. Handcrafted Carpets And Rugs
Ramadan is a perfect time that gives you the opportunity to redesign and decorate your home. During this festive environment, you can go through different corners of the home to replace or add some things. 
To give your home a vintage touch, you can add some handcrafted rugs and carpets. There are plenty of designs available for traditional carpets and rugs. It will give your home a new look and bring up the festive season. This is one of the Eid decorations that makes the festival more lively.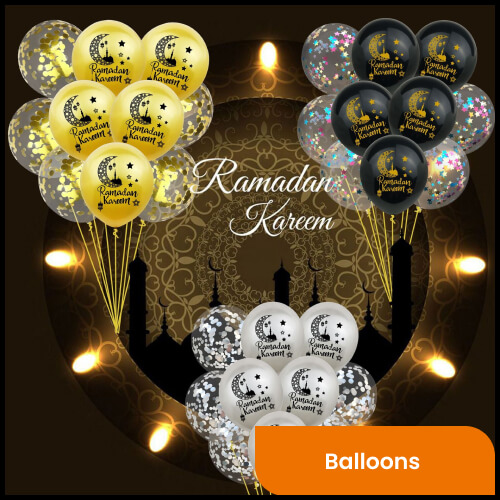 4. Balloons
If you want to enhance the workspace or living space during Ramadan, balloons are a perfect choice. Just like all the other Ramadan decorations online, you can find a lot of varieties in balloons as well. From thematic shapes to numbers, shapes and alphabets are available.
You can use them on walls, ceilings, entrances, backgrounds, centerpieces, etc. However, most people randomly choose to set balloons of all sizes and shapes on the wall. Otherwise, you can customize the balloons to get very good party city Ramadan decorations.
5. Best Tableware
During Ramadan 2022, you need to unleash your inner foodie. After a long time of restrictions and guidelines, people are ready to celebrate this event. Apart from the decorations, you can get utility items as well. Tableware is one of them that helps to make the iftar more enjoyable.  
Serving dishes, tableware, and porcelain dinnerware provide a very good and exquisite appearance. Things like traditional dinnerware collections and napkin rings make Ramadan more exciting and fun. If you do not want any paper Ramadan decorations, you can try getting different kinds of tableware.
Apart from these lists, there are many other DIY Ramadan decorations available. You might need a lot of time to create Ramadan decorations DIY. You can both choose any of these decoration ideas mentioned above or create Ramadan decorations ideas DIY. Last but not least, Eid Mubarak to all the readers.
Frequently Asked Questions:
Q1. What Decorations Do You Need For Eid?
You can choose a lot of decoration ideas during Eid. Here are some common and popular ones given below to help you make the Eid special. 

• Lot of balloons 
• Statement lighting 
• Memory wall
• Embellished carpets 
• Swing the moon and sprinkle the stars
• Blend of scent and light
Q2. What Are The Decorations For Ramadan?
You can decorate with light, tableware, decorative items, lanterns, and many more. However, make sure that all of them are colorful to get the best decoration through the Ramadan month. Mostly, colorful fabric with red patterns is very common and traditional during Ramadan decorations. 
Q3. What Are the Colors Of Ramadan?
The colors of Ramadan are Yellow, Turquoise & Green, and Dark & Purple Violet. Each of these colors represents different meanings. For example, Yellow means remembrance, happiness. On the other hand, Violet means dignity, wealth, wisdom, and others. Green means new life and growth.
Q4. How Can I Decorate My House For Ramadan?
Follow these tips to decorate your house for Ramadan.

• Use a lot of decorative scented candles. 
• Decorate the door for Ramadan. 
• Turn the balloons of Eid Mubarak into gifts. 
• Set the place up with some flowers. 
• Get a lot of indoor lights. 
• Hang up the Ramadan special lanterns
Conclusion
Ramadan is one of the holiest months that is celebrated worldwide by Muslims. If you are reading this, you already know the basics but want to find out the Ramadan decorations. This article is a perfect place for you to provide a lot of home decoration options during Ramadan.
Among the 5 different options, you can choose the best ones based on your room and the colors in the home. If this article has given you the answer to what you were looking for, make sure to share the article with others.
More Resources: