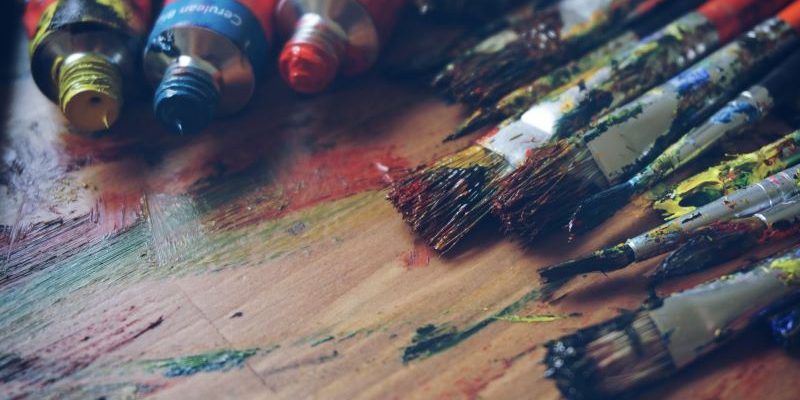 Long have dogs been considered man's best friend and a loyal companion, but the four-legged creatures have played an integral part in shaping the art world as well.
In fact, many priceless dogs in paintings can be traced back to the beloved pets of famous artists. Laying testimony that a dog is every artist's most devoted muse!.
From Munch's most iconic expressionist works to Picasso's most famous paintings, dogs in paintings have been essential in creating some of the most famous dog paintings.
They found creativity and love in the companionship of their furry friends and created the prettiest dog paintings you've ever seen.
Here's the story behind the fantastic four dogs who inspired these famous dog paintings by the greatest artists of all time.
1. 'Head of Dog 1930' by Edvard Munch
Edvard Munch, a Norwegian painter, and printmaker was a prolific artist who touched on themes of anxiety, alienation, and love in his work. He is well-known for his painting The Scream, one of the most recognizable paintings in art history.
The Head of Dog, created by Edvard Munch, expresses his love for dogs and features Expressionism style.
The painting portrays a dog in the foreground with alert ears, ready to listen to the first words spoken by the artist. It depicts Edvard's belief that dogs were better listeners than humans and would often confide in them.
In fact, there is little doubt that the dogs were his companions in the final years of his life after he withdrew himself from society. He often referred to his dogs as "his best friends", and painted them with a myriad of expressions that fully expressed their unique personalities and feelings.
His expressionist style in this masterpiece gives the painting depth and intensity, and his blurry brushstrokes capture a raw emotion that many people can connect with.
2. 'Dachshund Print' by Andy Warhol
Art was a big part of life for Andy Warhol, but did you know that dogs were too? In fact, he even got himself a Christmas gift in 1965 by purchasing a dachshund named Archie. This little pup made its way into Andy Warhol's heart, and in no time, they were the best of friends.
Archie accompanied Warhol to many openings, meetings with artists, interviews, and other social gatherings. But, unfortunately, Andy was so attached to his pet dog that he refused to go to London because it would mean six months without Archie!
Archie the Dachshund became a muse and a friend to artist Andy Warhol and inspired one of his most cherished pieces of work. This stunning and dramatic pop art piece is a testament to their beautiful friendship.
3. 'Le Chien (The Dog)' by Pablo Picasso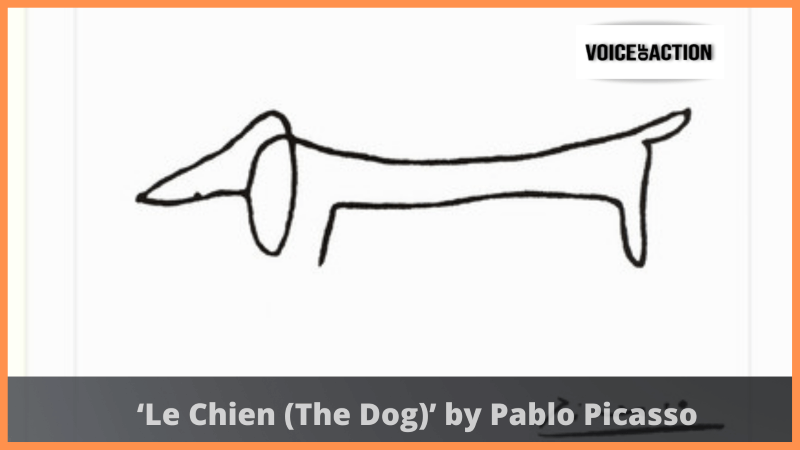 Picasso's name is synonymous with the word art, but did you know he was also a pet parent?
He owned many breeds over the years, such as poodles, dachshunds, Boxers, Great Pyrenees, and German Shepherds. However, Lump- the dachshund was his most well-known pet for which he had a special affinity.
The lump was a pet of Duncan, Picasso's friend. And the artist met Lump for the first time in early 1957 at La Californie, his palatial villa in Cannes.
While having lunch with his wife Jacqueline Roque and his friend Duncan, Picasso asked if Lump had ever had a plate of food of his own. Upon receiving a no as an answer, Picasso painted Lump's portrait on a dinner plate, with the work dated and inscribed to Lump.
Picasso used Lump as a muse– pictured the dog in sketches and incorporated it into many of his reinterpretations of Las Meninas by Velázquez. The bond that Picasso and Lump shared was illustrated by Duncan when he published a series of 89 photographs in the famous book Lump: The Dog Who Ate a Picasso.
4. 'Dog Lying in the Snow' by Franz Marc
Inspired by his dog in front of a snowy landscape, the artist Franz Marc created one of the prettiest famous dog paintings you've ever seen, 'Dog Lying in the Snow'.
Marc completed several paintings of animal subjects during his lifetime, but none was more famous than 'Dog Lying in the Snow'. The painting is an exciting example of Fauvism, one of several early modernist movements prominent around 1910.
One of his first animal paintings genuinely captures the artist's vision of animals as innocent creatures.
This dog lying constantly in the snow is a perfect example of our favorite furry animal companions. The artist's emphasis on the dog's long, thick fur and arched neck lends character and individuality to this pet.
In this case, Marc was inspired by his own dog Ruthie, who he painted around 1911. Ruthie, ​​a fox terrier, herself was a rescued street dog, and Marc believed that, like her and other animals, they were the only pure and innocent creatures that remained in what he considered an imperfect world.
Conclusion
Great art is the result of inspiration, and inspiration often comes from all aspects of life: your relationships, experiences, feelings, and even furry friends. But in the case of these artists, the presence of their beloved dogs helped make them some of the famous art with dogs they've created. So next time you admire one of these famous dog paintings, don't forget about our furry friends who were really behind it all.
Read Also: