Have you heard about Bartaco? If not, then you are in for a treat. And I mean it!
There are a number of Mexican restaurants in the world, but not all of them serve quality food that comes at a reasonable price along with great taste. But that is not the case with Bartaco.
Keep reading this article till the end to learn more about this famous restaurant…
Bartaco
The tagline of Bartaco is Food+Drinks, and that best defines the eatery. It is a pretty place with a white-washed interior, and that makes you feel like you are at the beach. And that is exactly what the founders of the restaurant wanted to achieve. They want to make sure that people who visit the eatery feel like "they are on a vacation."
It is one of the most popular places in the United States. One of the reasons for that is because of the food that consists of bold flavors as well as the vacation-worthy decor. The staff also ensures that they know the returning customers by name. This goes on to denote how important hospitality is for the people at Bartaco.
Keep reading this article to know where to find Bartaco and what is on their menu…
Bartaco Location: Where Can You Find It?
Bartaco is a very popular place that is present in several major locations in the United States of America. This restaurant is available in:
1st Location: Boulder 1048 Pearl Street 719.249.8226
2nd Location: Denver 2001 W 32nd Avenue 720.712.8226
1st Location: Stamford 222 Summer Street 203.323.8226
2nd Location: West Hartford 971 Farmington Avenue 860.586.8226
3rd Location: Westport 20 Wilton Road 203.222.8226
Location: Mt. Vernon 1025 5th Street Nw 202.888.8226
1st Location: Aventura 2906 Ne 207th Street, Ste. 104 305.614.8226
2nd Location: Orlando 7600 Dr. Phillips Boulevard 407.801.8226
3rd Location: Tampa 1601 West Snow Avenue 813.258.8226
4th Location: Wynwood 282 Nw 25th Street 786.822.8226
1st Location: Atlanta / Chastain Park 3802 Roswell Road Ne 678.871.8226
2nd Location: Atlanta / Inman Park 299 N. Highland Avenue Ne 470.400.8226
3rd Location: Atlanta / Vinings 2950 New Paces Ferry Road Se 470.797.8226
4th Location: Atlanta / West Midtown 969 Marietta Street Nw 404.607.8226
Location: Seaport – Boston 25 Thomson Place 617.819.8226
Location: Port Chester 1 Willett Avenue 914.937.8226
1st Location: Chapel Hill 201 S. Estes Drive, Ste. E3 910.807.8226
2nd Location: Raleigh 4121 Main @ North Hills St. 919.626.8226
Location: King Of Prussia 160 N. Gulph Road 610.510.8226
Location: Nashville 2526 12th Avenue South 615.269.8226
1st Location: Ballston 4238 Wilson Blvd, Ste 120 571.390.8226
2nd Location: Mosaic 2920 District Ave. 571.549.8226
3rd Location: Reston 12021 Town Square Street 703.787.8226
Location: Madison 464 N. Midvale Blvd. 608.620.8226
Bartaco Menu: What Do You Get At Bartaco?
According to a review by The New York Times, the Bartaco menu is "geared to quick bites and small plates and is family-friendly." and that is exactly what Bartaco is. In addition, there are a number of exotic items that you can order from the menu, including drinks.
The food menu of the restaurant is divided into several categories. Here are the categories that you need to see before going forward with reading this blog:
Not tacos
Taco packs
Tacos (available only for pickups)
Rice bowls
Kids menu
Family packs
Dessert
Here are some of the items from Bartaco that you need to know about:
| Category | Name Of Dish | What's On The Plate? |
| --- | --- | --- |
| Tacos | Spiced Chicken Verde | Chile + Herb Marinade W/ Aguacate Salsa |
| Tacos | Glazed Pork Belly | Spicy Arbol Chili Sauce |
| Not Tacos | Black Beans W/ Sofrito | Black Beans Stewed In Tomato, Garlic, Onion Sofrito |
| Not Tacos | Panucho | Yucatan Inspired Bite Of Black Bean Purée + Avocado On Crispy Tortilla Shell W/ Crisp Salad Of Cabbage, Pickled Onion, Spiced Pepitas, Serrano Chile + Cilantro |
| Not Tacos | Roasted Half Chicken | Garlic-Herb Half Chicken W/ Peruvian-Style Green Chile Sauce |
| Rice Bowls | Seared Chorizo | Argentinian-Style Spiced Ground Pork W/ Sweet Onion + Cilantro + Smoky Red Chimichurri Sauce |
| Rice Bowls | Chile-Lime Shrimp | W/ Jícama Escabeche + Zesty Pepita Salsa Macha |
| Desserts | Tres Leches | Three-Milk Soaked Vanilla Sponge Cake W/ Whipped Cream, Caramel Sauce + Toasted Coconut |
This is not all. There is a wide range of exotic drinks that you can choose from the Bartaco restaurant. The drinks menu is divided into four sections. They are:
Cocktails
Beer
Sangria and wine
Drinks
Here are some of the popular drinks that you will get at the Bartaco restaurant and in all of their outlets across the states. Take a look at them:
| Category | Name Of Drink | What Is In The Glass? |
| --- | --- | --- |
| Cocktails | Winter Caipirinha | Cachaça 51 + Fresh Pomegranate + Limes + Sugar |
| Cocktails | Paloma Fresca | Libélula Joven + Grapefruit + Lime + Peychaud's Bitters + Grapefruit Bitters + Sparkling Water |
| Beer (Can) | Sloop Juice Bomb Ipa (Ny) | Na |
| Beer (Bottle) | Bohemia Pilsner (Mexico) | Na |
| Sangria And Wine | Sparkling | Barcava Cava |
| Sangria And Wine | Rosé | Liquid Geography Mencia Rosé |
| Drinks | House-Made Águas Frescas | Pomegranate Limonada |
| Drinks | Mexican Cane Sodas | Fanta Orange |
Bartaco Reviews: What Customers Have To Say About Bartaco?
No matter whether you want to visit Bartaco as a customer or want to work there, it is important that you know a little about the place. And that is why reviews are important.
In case you were in search of some authentic Bartaco reviews, you have reached the right place. Here are some of the most genuine reviews of Bartaco that you were looking for: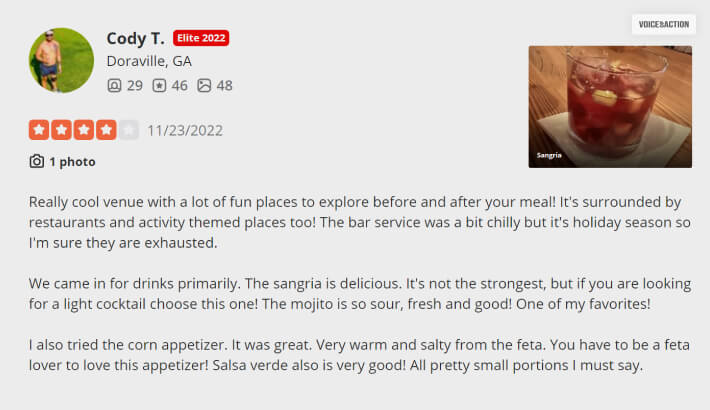 Frequently Asked Questions (FAQs):
Now that you have almost reached the end of this article, I hope that most of your queries have been solved already. Here are some of the questions that readers usually ask about Bartaco. Consider going through them to get additional information about the same.
1. Who Is The Owner Of Bartaco?
➥ Bartaco is one of the most popular and growing restaurants that serves Mexican food with a twist. Its owner and founder is Scott Lawson.
2. Does Bartaco Take Apple Pay?
➥Bartaco is a restaurant that operates in a number of areas in America. And if you are thinking whether the restaurant takes Apple Pay or not, there is no need to worry. This restaurant chain takes apple pay and its app is also available on the App Store.
Wrapping It Up!
Bartaco is a popular restaurant in major parts of the United States. The most important reason for their fame is their hospitality. However, that does not mean that the food there is not great. On the contrary, the restaurant has seen people return to this eatery over the years to have the best time of the day!
In case you wanted to know about Bartaco and get the reviews of the ame, I hope this review blog has been of help to you. If there are any other queries related to the same, kindly feel free to write them in the comment box below.
Read More: