Have you ever come across the text to speech applications? This application is an effective tool for doing both readings as well as understanding how the written text works, especially for people suffering from dyslexia or some other type of learning disabilities in terms of both learning and reading disabilities. 
Several people, in fact, also use text-to-speech apps for catching up on school work. After all, these tools will help you to read fast and retain the subsequent information, as compared to manual reading. Additionally, there are other uses of these apps in terms of both voice API and IVR or Interactive Voice Response.
So keep reading to find out more about text-to-speech apps.
Exploring The Text To Speech Technology: What Is Text To Speech Technology And How Does It Work?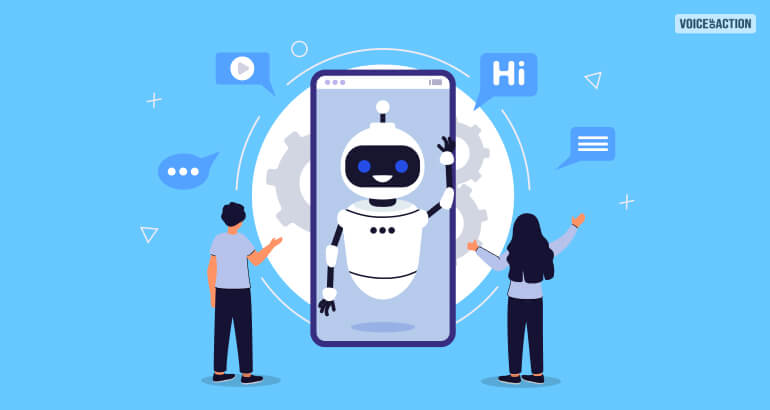 Before you can look for mac text-to-speech or even text-to-speech kindle tools or some other variations of the same, it is important to find out what text-to-speech technology is and how it works out. It can be defined as an assistive technology that can read aloud digital texts, earning the tag "read aloud technology."
The TTS technology can obtain digital texts from desktops or other similar devices and easily convert the same into audio. As a result, this technology is considered to be helpful for individuals struggling with reading. And not just that, these apps can also help out kids with writing, editing, and focussing.
So instead of wasting any more time, let's find out how the text-to-speech technology works out – scroll down to read now!
How Does The Text To Speech Technology Work?
If you have ever used any text-to-speech discord bot or something similar, you would still know how the TTS technology works. But for most of us, it's a confusing concept. So let's find out – check out the steps mentioned below for a better understanding of the same.
Text-to-speech technology works with most digital devices, including computers, tablets, and smartphones. All types of text-based files can be easily read aloud, inclusive of both Pages and word documents. Even web pages online are read aloud.
The voice present within the TTS technology happens to be computer-generated. Moreover, reading speed can be easily slowed down or sped up. Voice quality can vary, and some voices even sound human. There are several voices that are computer-generated but sound like a child speaking.
Many text-to-speech tools highlight the words that can be read aloud. This enables children to view texts and hears the same simultaneously.
Some text-to-speech tools are also blessed with a king of technology known as OCR or optical character recognition. OCR enables various TTS tools to read aloud texts from images. For instance, your kid could even take photos of street signs and convert the texts into audio.
Types Of Text-To-Speech Tools:
Depending on the device you are planning to use, there are various types of TTS tools. These are as follows,
Built-in text-to-speech
Web-based tools
Text-to-speech apps
Chrome tools
Text-to-speech software programs
How Text-To-Speech Can Help?
Whether you are looking for Spanish text-to-speech tools or French text-to-speech apps, it doesn't matter unless you have figured out which will better suit your requirements. So let's check out the basic benefits of using any text-to-speech technology. 
Boosts word recognition.
Increases attention-paying abilities while memorizing information obtained during a reading.
Enables users to focus on comprehension and not on the sounding of different words.
Increase the attention spans of users, especially in terms of reading assignments.
Helps users to find out their mistakes and fix the same on their own.
Looking For The Most Realistic Text To Speech Applications: What Is The Most Realistic TTS?
Now that you have a fair idea of how TTS works, let's check out a few of the best TTS apps available in the market. So without wasting any more time, scroll down and find out the best text-to-speech applications that you can use with ease.
1. Balabolka: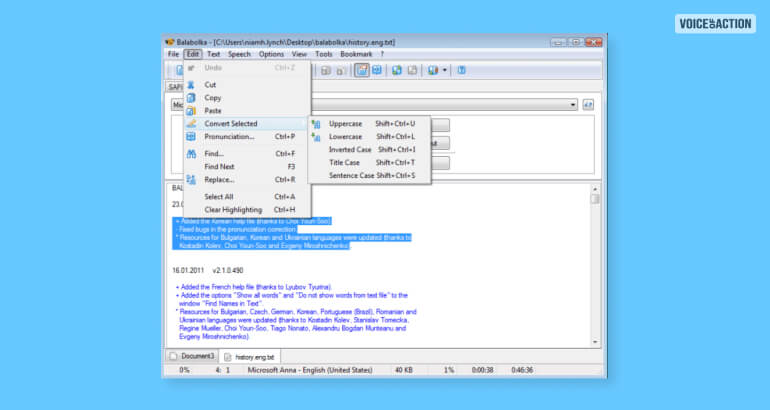 Before checking out how to use text-to-speech on TikTok, it's best to check out the options available in terms of tools. Balabolka is one of the best in the industry today – it's a free text-to-speech app that enables users to simply translate texts into spoken words while exporting audio files within a wide range of formats like .MP3, .MP4, .OGG, .WMA, and .WAV.
Features: Made for beginners. Customization options. Compatible with Microsoft Windows. Bookmarking tools.
2. NaturalReader:
If you are looking for the best text-to-speech chrome extension, Natural Reader is your best shot. It's not just an extension, it also happens to have an application version. Natural Reader has gained just the right amount of popularity for both personal and commercial use. The best part? The AI-driven voice reader feature!
Features: Image Scanning and conversion into audio text with OCR technology. Compatible with both mobile devices and desktops. Available for both Mac and Windows operating systems. Identification of syntactic environments.
3. Voice Dream Reader:
Instead of seeking text-to-speech iPhone or android separately, it's best to opt for an app that has inclusive features, such as Voice Dream Reader. This high-quality voiceover application is perhaps one of the best in the market today. Adjustable font size and style make life easier for individuals with dyslexia, low vision, or something similar. 
Features: More than 200+ voices can be purchased in-app.More than 30+ languages are available. Multiple reading options. Dynamic customization. High-speed reading.
4. Amazon Polly: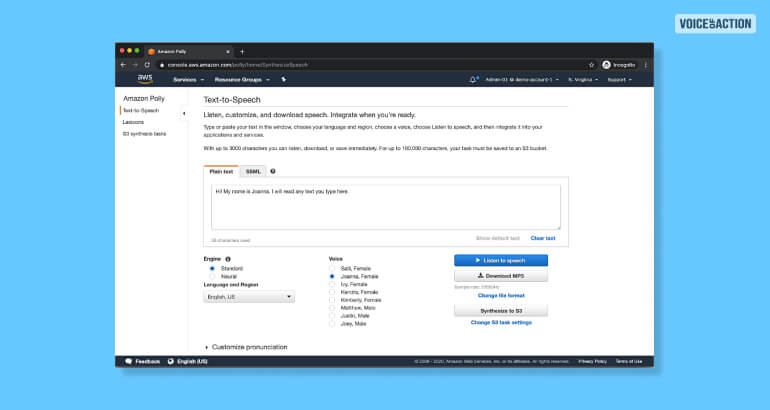 The best part of using Amazon Polly is it's completely free of cost, and it's available for use within Amazon's array of different online tools. Amazon Polly can convert basic images and documents to spoken texts. The app also provides various creatives with the different tools users might need for speech-enabled and smart-talking products.
Features: NTTS or Neural Text-to-Speech voices boost sound and speech quality exponentially. Unique voices for news narration.Custom voices with the help of TTS professionals at Amazon. Fluid pronunciation. Pricing calculator available in the in-browsing format.
5. Speechify:
Available as both an extension for the chrome browser and a mobile application, Speechify is a great TTS reader that excels in making both processing and comprehending easier and faster. This app was found to be well-liked by people with reading challenges.
Speechify basically uses OCR, or Optical Character Recognition software, for converting images to the spoken word.
Features: Natural-sounding voices in the English language. Multiple formats are available. Compatible with Microsoft Windows, iOS, and Android.High-quality customer support. 
Frequently Asked Questions:
Check out the most frequently asked questions related to TTS technology mentioned below.
1. What Is The Most Realistic TTS Voice?
NaturalReader, Amazon Polly, and Speechify have the most amount of real human-sounding voices among different kinds of text-to-speech apps.

In fact, Polly's NTTS or Neural Text-to-Speech quickly makes it a prime choice, with a brand like Speechify coming right behind.
2. How Does Text-To-Speech Work?
TTS or Text-to-speech is a kind of supportive or assistive technology which goes through digital texts aloud. It is sometimes known as a type of "read-aloud" technology.

With just a finger touch or a button click, Text-to-speech or TTS can take words on different computers or other digital devices and subsequently transform them into various audio versions.
3. What Is The Best Sounding Text-To-Speech?
The best-sounding text-to-speech are as follows,

• VoiceDream,
• Wideo,
• From Text to Speech,
• Google Cloud Text-to-Speech,
• Amazon Polly,
• iSpring Suite,
• NextUp Technologies, and
• Azure Text to Speech.
4. Who Benefits From Text-To-Speech?
People with reading and visual impairments were initial adopters of Text-To-Speech or TTS. So it kind of makes sense! TTS or Text-To-Speech enables the whole digital experience for at least 1 out of every five people affected by low literacy readers, dyslexia, and others with literacy disabilities by getting rid of the reading stress and providing data in an optimized format.
And It's A Wrap!
Finding the perfect text-to-speech application or software is all about comparing multiple apps – from checking out all the pros of each app to finding out the cons, data such as how to turn off text-to-speech is crucial. You will also need to find out your budget, what you will be using the application for, and if you have any special needs of sorts. 
In the meantime, tell us what you think about text-to-speech applications and share your experiences with us below!
More Resources: