Replacing or modifying your roof is one of the most essential home renovations you will ever make, as it is the most crucial part of your home's exterior. It protects everything that matters most to you inside against unpredictable weather.
In addition to keeping out water, snow, and wind, it can also improve the energy efficiency of your house and increase its overall resale value.
The following guide elaborates on the main factors to focus on when you need a roof replacement. The information can be beneficial to first-time homeowners dealing with this specific issue.
Top 4 Factors To Consider When Replacing Your Roof
1. Roof damage severity
Some problems are relatively minor and can be repaired with a patch or two, while others may require an entirely new roof. Therefore, it is best to examine the damage and determine if you need a repair or replacement.
If there are only small patches of missing shingles, or if you have one broken tile that's only been chipped but not cracked, it is minor damage. Seek a contractor specializing in minor repairs before considering more substantial work on your home.
In contrast, if several tiles are missing from various spots on your roof, it is considered moderate damage and should be addressed more quickly than significant issues warrant. If left alone for too long, you could end up with water leaks that cause severe structural damage inside your house.
2. Material type
The type of material you wish to use matters most as it will impact the lifespan of the new roof. There are generally two types homeowners prefer, shingles and tiles. Shingles are the most popular option for homeowners today as they are eco-friendly, durable, and energy-efficient.
Tiles tend to last longer than shingles in most cases, but they can be more expensive and difficult to install yourself if you are unfamiliar with how they work. Metal variants are also worth considering as an alternative to shingles and tiles, offering diverse benefits such as hassle-free maintenance, durability, and increased energy efficiency over time.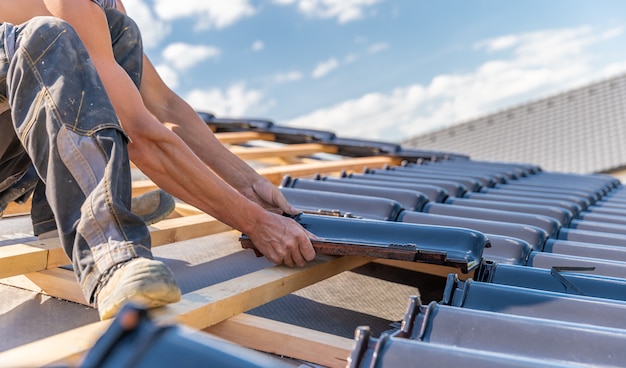 3. Hiring a professional contractor
It is paramount to look for a licensed and insured roof replacement professional. Also, ensure the specialists have industry experience in various roofing projects, assuring you of their capabilities. For instance, an excellent contractor can easily install flat and slate roofing without difficulties, whereas amateur ones might not be able to do so.
Another advantage of hiring reputable and expert contractors is that they can offer many different options for replacing your roof. For example, there are shingles, composition materials, and tiles, which all look different and will fit into different budgets as well.
You can get references from friends or family members who have used their services or look at reviews online. Note that genuine professionals will offer quality at affordable rates besides giving you a free cost estimate to determine the budget.
4. Average cost
The average cost of the service can vary greatly depending on a number of factors. Some of these include the type of material you choose, the size of the area being replaced, and the location, i.e., whether it is a rural or urban environment, as some contractors might charge more to travel long distances.
So, keep all the above-listed vital factors in mind and enjoy a hassle-free service by hiring a roofing specialist.
Additional: