Over 42,000 people died in accidents in the US last year, which is more than any year since 2005.
With the rise in fatal car accidents, everyone should know what to do if someone they know dies in one. While the process can seem tricky, it's necessary if you want your loved one's next of kin to get the compensation they deserve.
Fortunately, we've put together all the info you need to know. In no time, you can seek justice for your family without getting stressed.
Here are the steps to take after a fatal car accident.
5 things To Do While Facing a Fatal Car Accident
Overview:
At-Fault Driver Liability
2. Hire a Car Accident Attorney
File a Wrongful Death Lawsuit
Consider Settling the Case
1. At-Fault Driver Liability
When it comes to fatal car accidents, one of the main things you should know about is at-fault driver liability. In some cases, at-fault drivers aren't criminally liable for killing someone in an accident.
For example, a driver's vehicle can malfunction, causing them to crash into someone else. In a situation like this, the driver would be partially liable, but an insurance company can also become liable.
Here are a few cases in which someone else can become liable for an accident:
A third driver can get involved when they hit a person and cause them to hit someone else
The vehicle owner can get involved when the at-fault driver is someone else
If the at-fault driver is leasing a vehicle and gets into an accident, the leasing company (or agent) will get involved
An employer can get involved if the at-fault driver was on duty at the time of the accident
When working with an attorney, they'll investigate every party to figure out who exactly should be held accountable for the accident.
Should the accident involve commercial vehicles, more than one party can share liability, such as the company owner, vehicle owner, leasing agent, leasing company, and driver.
2. Hire a Car Accident Attorney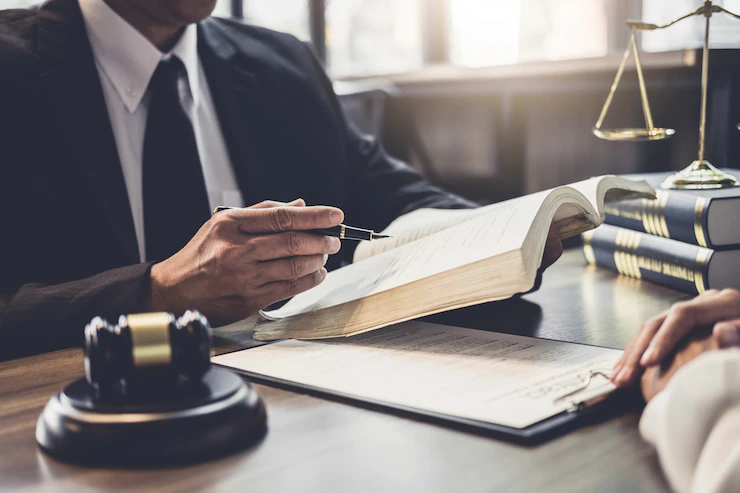 Now that you know about driver liability, the next thing you should do is hire a car accident attorney. Not only can they provide car accident legal advice, but they can help you seek compensation.
Hiring a car accident attorney is a fairly simple process, though you'll need to go through several steps:
A. Research Law Firms
B. Compare the Rates of Several Lawyers
c. Speak to Lawyers and Learn About Their Experience
A. Research Law Firms
The first thing you must do is look for different law firms that you can reach out to. This can be done with a quick search for "car accident attorney" on Google.
Go through various sites and see what exactly they offer. From there, put together a list of law firms that look interesting so you can continue comparing them later.
B. Compare the Rates of Several Lawyers
One of the main things you should find out is how much a lawyer charges for their services. Each lawyer will have a different rate, so avoid going with someone that doesn't fit your budget.
Keep in mind that some lawyers charge contingency fees, which prevent you from having to pay them if you don't win your case. If you decide to file a lawsuit, their payment will come directly from the compensation that the court orders. You can get more information here.
C . Speak to Lawyers and Learn About Their Experience
Another thing that'll help you choose the best lawyer is speaking to them about their experience. Any time you want to hire someone to help you with your case, you should know what their previous cases were like.
The more info you can get, the easier it'll be to hire the best car accident, lawyer. Because of this, ensure to ask questions whenever you'd like to know something.
3. File a Wrongful Death Lawsuit
After hiring a lawyer, you can start working toward getting compensation by filing a wrongful death lawsuit. Fatal car accidents can be defined as wrongful deaths if they're the result of negligence from another person.
If a car malfunction caused the death, you can file a lawsuit against the vehicle manufacturer for wrongful death. However, your lawyer will help you figure out everything after determining who's liable.
Should you win the case, the compensation will go to the decedent's next of kin, whether it be you or another relative.
4. Consider Settling the Case
To avoid a lengthy legal process, you can consider settling the case. This is one of the best ways to keep disputes out of court as it involves all parties reaching a mutual agreement.
Settling a lawsuit allows you to receive the money quicker, though you may end up getting less than you would if you take things to court. Yet, you'd increase your odds of getting money because the liable parties may want to provide compensation to avoid spending more later.
Before deciding to settle, talk to your lawyer to get a better idea of whether this is your best option. If they think you have a strong case, they'll most likely encourage you to take things further.
Now You Know How to Handle a Fatal Car Accident
After reading this article, you now have all the info you need to know about the steps to take after a fatal car accident. If one of your loved ones has recently passed away because of an accident, start looking for law firms as soon as possible.
When you find a fatal car accident attorney that checks all of the boxes, don't hesitate to hire them. Keep in mind that you can find someone that charges contingency fees if you're worried about paying them.
For more automotive and legal info, take a look at our other articles.
Additionals: